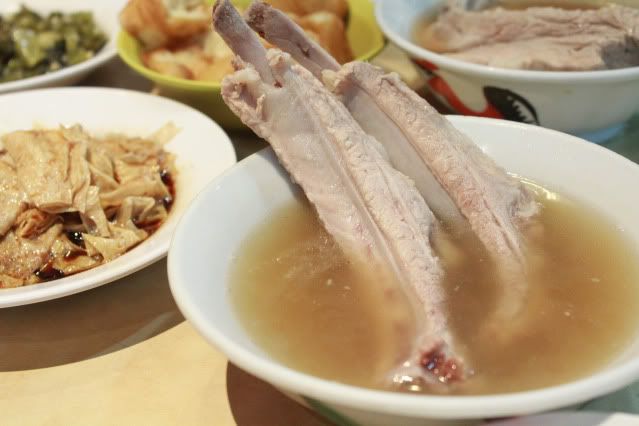 Drinking the sweet, peppery broth of a good bowl of Bak Kut Teh is indeed comforting to the soul. Coupled with rice, braised pork trotter, a couple more of other small dishes and that's last night's dinner for my family and I.
Headed down to the famous Founder Bak Kut Teh Restaurant last night with my family for dinner. It was my second time there, fortunately we didn't have to wait too long for a table.
My stomach still wasn't well yet so I didn't touch the you tiao, beancurd skin and preserved vegetables. The bak kut teh was good, enjoyed the broth and the pork ribs. Loved it when I chewed on the ribs and there's that nice thin layer of fat lying in between the meat, releasing a sudden burst of flavour, enough to excite a 'ummm.' from me.
The braised pork trotter was commendable, it was tender and well braised. Tasted like my grandma's and my sister suspected it might be because they are using the same brand of soya sauce.
Overall, a satisfying dinner and its a plus that they'll refill your broth after you've finished drinking yours. But don't forget to ask!

FOUNDER BAK KUT TEH
347 Balestier Road (under New Orchid Hotel)
Singapore 329777
Tel: 63526192
Open daily except Tuesday
Lunch: 12 noon - 2pm
Dinner/Supper: 6pm - 2.30am


Happy eating!
Gustatory Explorer.