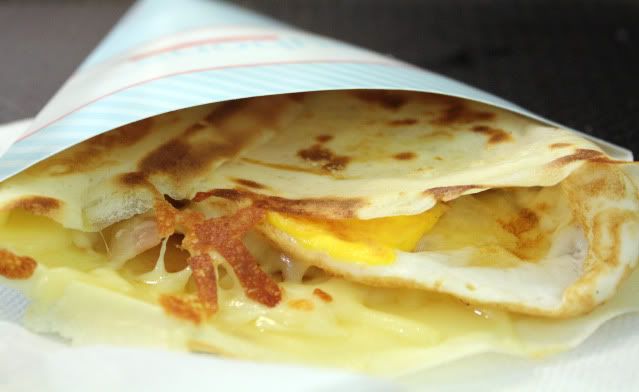 Saybons opened a new brunch at Bishan recently. Its main brunch at Plaza Singapura is a rather prominent shop near the entrance of Dhoby Ghaut MRT. I've been wanting to try it ever since someone mentioned that their crepes and escargots are good.
This birthday lunch treat was a promise a few weeks back, but we were having our exams then, hence the late birthday treat. I decided on Saybons since both of us have been wanted to try it.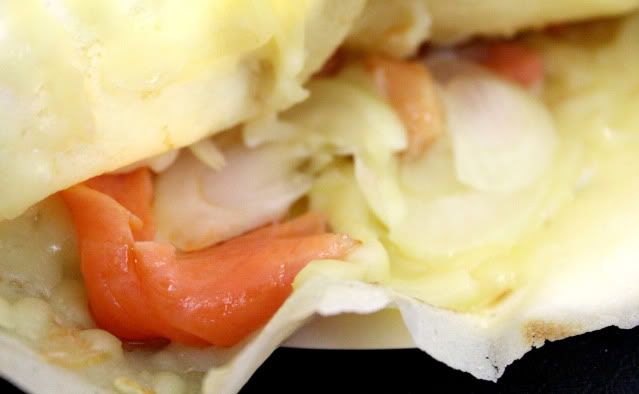 I ordered the
Smoked Salmon, Cheese and Onion
crepe while my friend had the
Bacon, Egg and Cheese
crepe(first picture). These two were the recommended crepes on the menu.
I didn't try his crepe, but mine was pretty decent. The saltiness of the smoke salmon together with the crisp of the onion and melted cheese went well with the crepe. The crepe was of just the right thickiness, neither too thick nor too thin.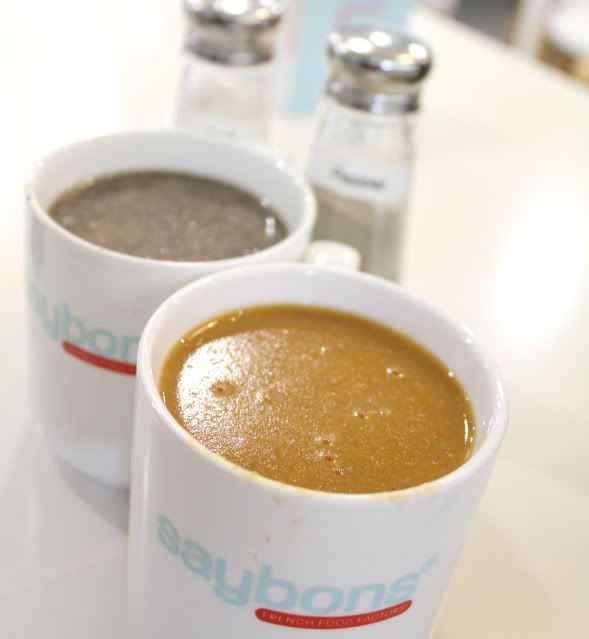 We ordered a set each which came with a soup and a side of your choice. We had the
Wild Mushroom Soup
and
Seafood Bisque
. I would recommend the Seafood Bisque although there's an extra 50cent charge. The mushroom soup tasted a little diluted with the cream taste. A more concentrated mushroom flavour would make the soup real good.
The Seafood Bisque tasted like the ocean - it was rich with sweet flavours of the crabs and prawns shells, lacked the oomph though. I suggest drinking the soups without addition of any pepper or salt because I added a little pepper halfway through and the peppery taste was a little overpowering.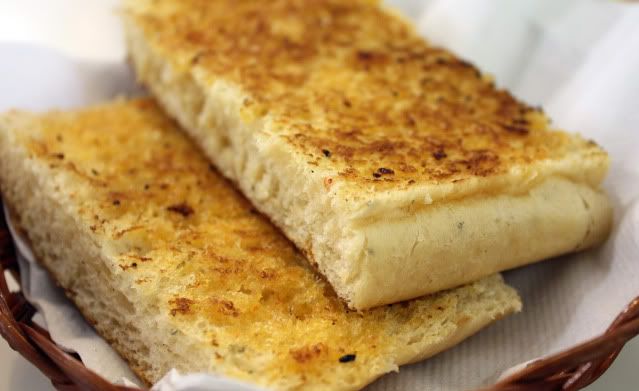 The
Sundried Tomato Butter Focaccia Bread
for my side was a let down. The bread lacked of even the slightest tomato taste, it was just essentially bread pan fried with butter.
The
Garlic Herb Escargots
were the last to arrive as it requires a 10mins bake time. They were not too bad, carried a strong garlicky and buttery taste. However, I don't think I would pay $8 to eat half a dozen of them, too costly.
All in all, their crepes were the best. I will be back to try their dessert crepe on another occasion.
Saybons
Junction 8
9 Bishan Place #02-27A (above McDonalds)
Singapore 579837
Tel: 62583138
Open 9am to 10pm daily
Nearest MRT station: Bishan
Plaza Singapura
68 Orchard Road #B2-30/31/32 ( near Carls' Junior)
Singapore 238839
Tel: 6884 9018
Open 9am to 10pm (Mon-Fri)
Open 10am to 10pm (Sat & Sun)
Nearest MRT station: Dhoby Ghaut Station