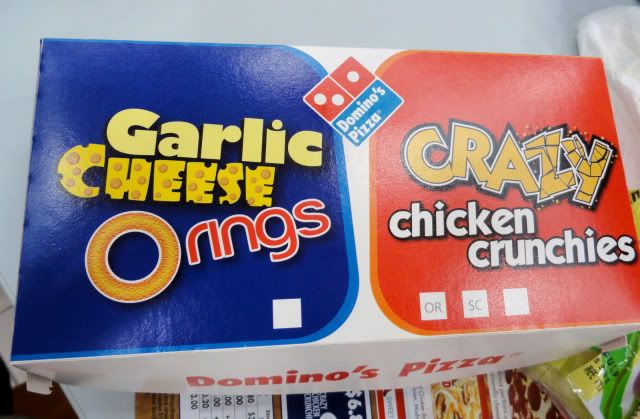 Bloggers who participated in the Singapore Blog Awards(SBA), which started in May, were invited to an appreciation dinner by Domino's Pizza. Domino's Pizza have received the help of many blogger and thus, organised this dinner in appreciation.
8 bloggers, including myself, turned up for it. It was really just a time of mingling around with other bloggers who shared the same passion for blogging and well, when there is company, it is bound to be accompanied by food right? I had a great time getting to know: Hazel of
AiMakan
, Roxanne of
Laced Ivory
, Joey of
iisjong
, Melissa of
Melissa Choi
and Alexis of
alex.is
.
We were in for a treat that night, as we were served a number of sides, pizzas and a lava cake each.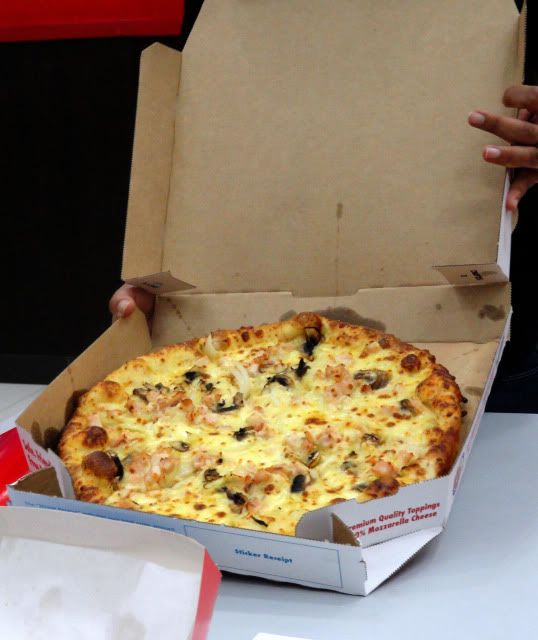 The gathering started off with Ms Linda, the marketing manger of Domino's Pizza, feeding us with a little of Domino's Pizaa's background information and its history.
She then told us about the Standard Operating Procedures (SOP) of Domino's. It's really customers first at Domino's where they would offer customers a free pizza voucher if there is any complains, no questions asked.
They are committed to making sure that every customer is not short-changed with CCTVs at every work station while the staff made the pizzas. Thus, in any instances of complains of too little ingredients, they can easily check through the CCTV. Now that's commitment for you.
It was time to eat and, the sides were served first.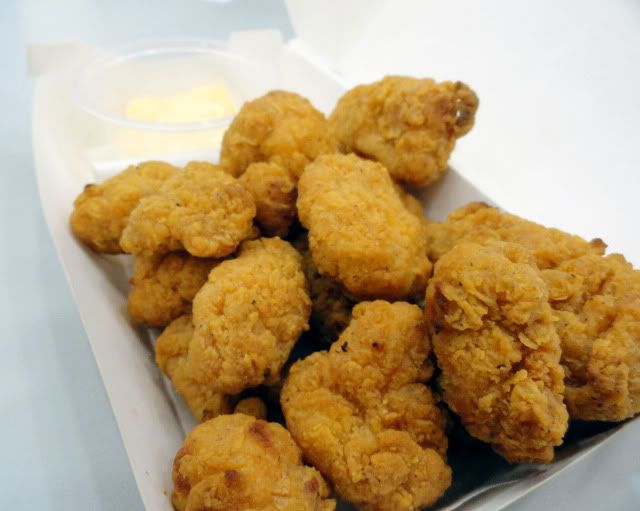 The Crazy Chicken Crunchies(Tom Yam) were a little cold after we have finished taking photos and whatsnot. However, with that aside, I thought the spiciness of the chicken was overwhelming; you could only taste the spiciness along with the crunch of the chicken.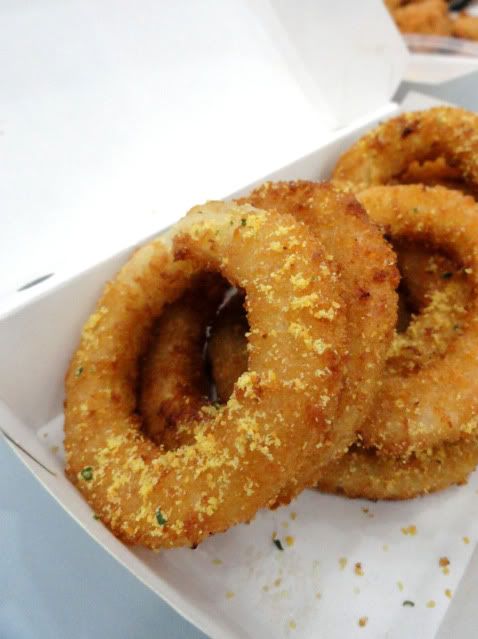 These onion rings could do with a little more cheese. I couldn't taste the garlic cheese on the Garlic Cheese Onion Rings.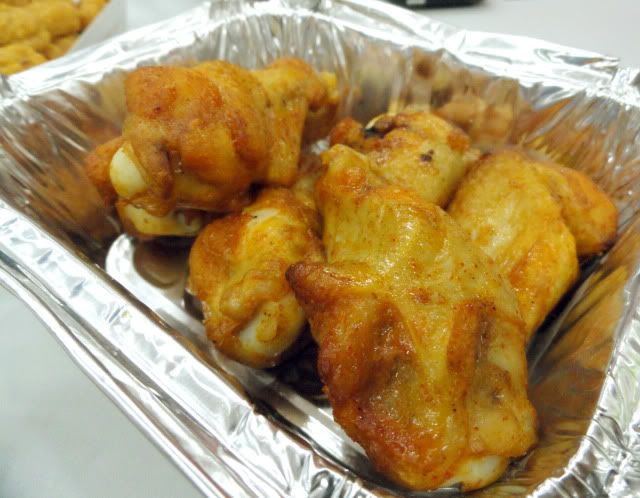 The Golden Roasted Drummets were Melissa's favourite. She had 5 of them and wanted more. 'Chickens, fear her.' Haha. They were tasty and finger licking good.

At Domino's, there are 4 chocices of crust available. They are, in ascending thickness, Crunchy Thin Crust, Cheese Burst Crust, New York Crust and Classic Hand Tossed Crust. You can see from the picture, the obvious difference between a hand tossed crust and the cheese burst crust.
Domino's ushered in the arrival of a new crust - the cheese burst crust - not too long ago. The cheese burst crust is described as such, two crunchy thin crust with a layer of creamy cheddar cheese sauce in between. Did that get your saliva glands working?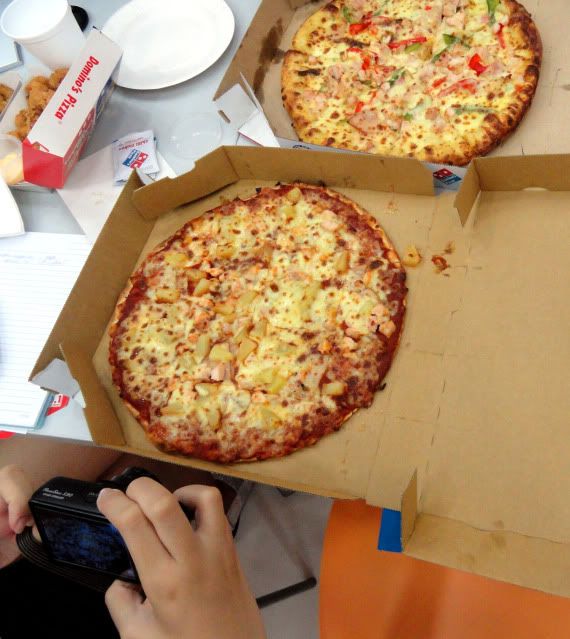 I only managed to try these two pizzas before I was full. You'll see why later on. These two are the Hawaiian Paradise (bottom) and the Chicken Temptation.
The Hawaiian Paradise had supposedly the cheese burst crust, but my tastebuds only manged to detect their signature sauce - tomato sauce - and the cheese in the pizza. The crust wasn't crunchy crispy but it was nice, with it being thin.
The Chicken Temptation was decent with its thick crust. I think I prefer the thin crust to a thick hand tossed one. Though for you out there, who likes chewy food, you'll enjoy the hand tossed crust.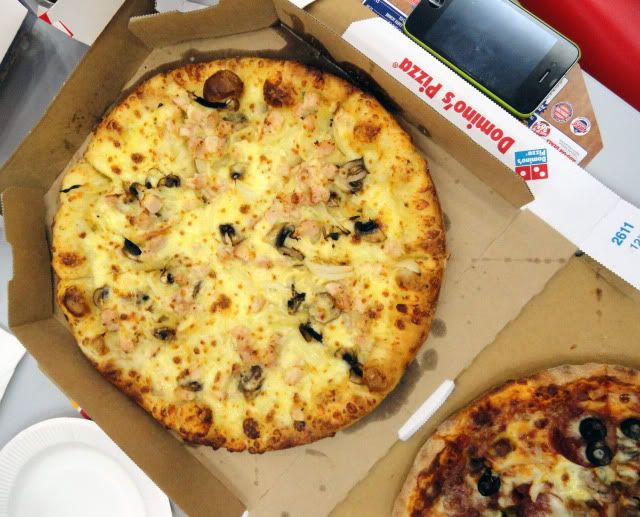 The Classified Chicken pizza.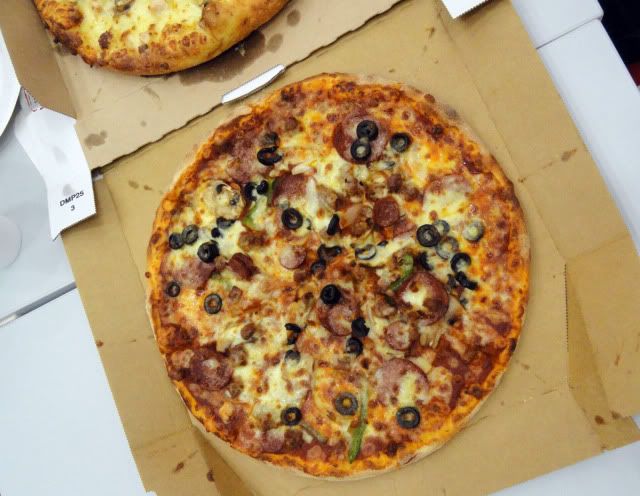 The Extravaganzza pizza.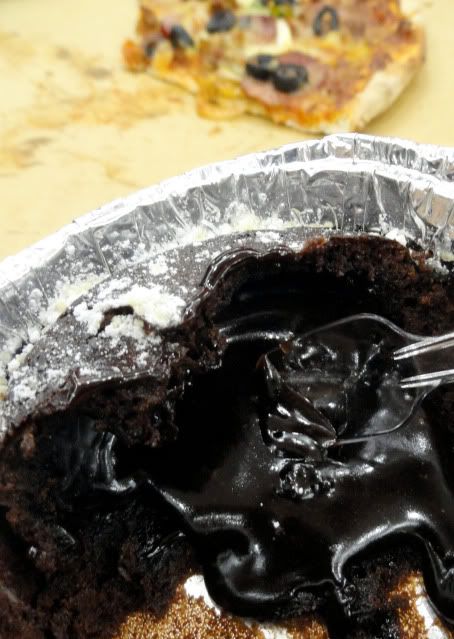 Oops, it's gone. Domino's Lava Cake was devoured. And this was the reason why I didn't have the chance to sample the other two pizzas.
Adrenaline rushed through my veins when 'chocolate lava cake' was mentioned. The thought of warm, runny, molten chocolate flowing out as your fork nudged a piece of cake off, was too much to bear. I skipped the two pizzas and went for this first.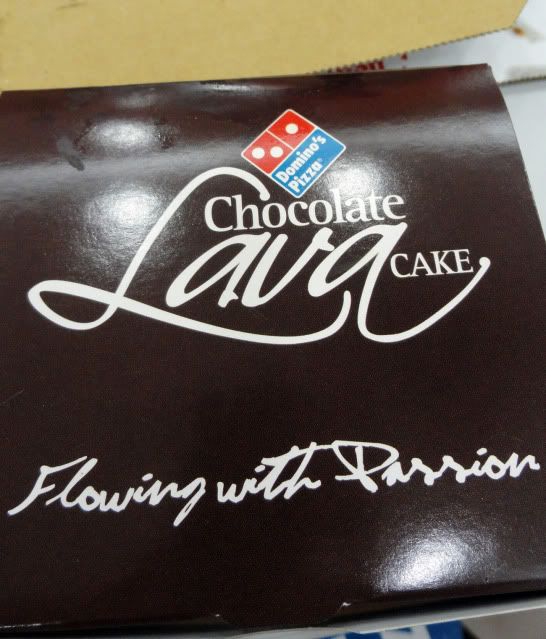 The chocolate cake was very chocolatey, I think I just sounded the alarm for chocoholics, but the molten chocolate was too thick and cloying. I was expecting a runnier chocolate filling. It was filling too, so beware. This should do fine if you should ever need a quick dose of chocolate.
Well, that was more or less the entire gathering. This was my first bloggers meeting and I've happy to say that they're all friendly and nice!
Thank you Janet for the invite and the team behind Domino's for the wonderful dinner!
Domino's Pizza
Kovan
943/945, Upper Serangoon Road, Singapore 534710
Ang Mo Kio
1, Blk 339 #01-1587, Singapore 560339
Bedok
Blk 218, Bedok North 1, #01-15 Singapore 460218
Bukit Merah
Blk 111 Jalan Bukit Merah, #01-1678, Singapore 160111
Choa Chu Kang
Block 253 Choa Chu Kang #01-01 ( Keat Hong Shopping Centre) Singapore 680253
Elias Mall
Blk 625 #01-312 Elias Mall, Elias Road, Singapore 510625
Jurong
6 Jurong West Avenue 1, #01-03, Singapore 649520
Katong
301,Tanjong Katong Road,Singapore 437084
Killiney
71 & 71A,Killiney Road,Singapore 239527
Sembawang
369 Sembawang Road,#01-06 Sembawang Cottage, Singapore 758382
Tampines
No. 15 Jalan Tepong #04-11/12 Jurong Food Hub , Singapore 619336
Bukit Timah
8 Chun Tin Road, Singapore 599595