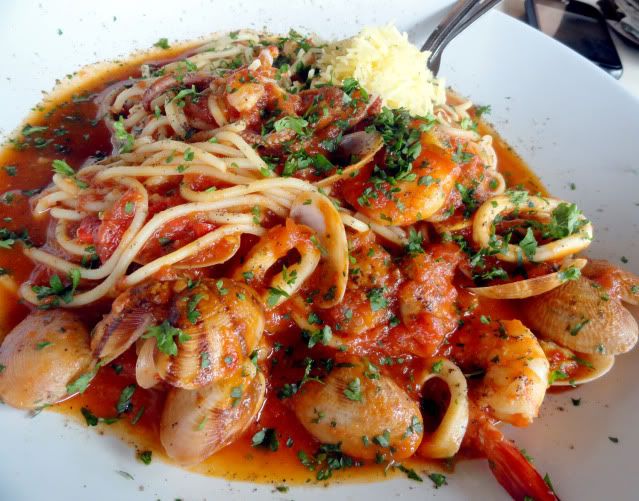 Along Thomson Road, in the vicinity of Lower and Upper Pierce Reservoir, lies a seemingly unnoticed and very little written about food centre - Sembawang Hill Food Centre. Here, it's a desolated ghost town for most part of the day, except during breakfast and dinner time I assume.
Having been there on numerous occasion near lunch time, many stalls were closed and the reason is simple - there were very few customers. Only the hardworking stall owners would keep there store open for any patrons that might drop in for a meal anytime. Grill & Pasta is one of the example.
Here, at Grill & Pasta, it's a husband and wife team at work. The husband would be the one doing the cooking while his wife would take orders and assist him wherever she can.
This is my first time patronising this stall and didn't realise its existence, till my friends mentioned it recently. A few of us were actually planning on eating the Jing Ji Fishball Noodles, that is much raved about by my friend, but it was unfortunately closed. Not sure if it was a blessing in disguise, but I sure had a satisfying lunch of seafood marinara pasta.
The Seafood Marinara is for seafood lovers, especially if calms are your absolute love. Cooked in a tantalising tomato sauce, the pasta was al dente with the seafood - squids, prawns and clams - well cooked. The stall owners were very generous with the seafood and served with grated cheese, I did not regret having the Seafood Marinara for lunch. I also loved the fact that the stall owners used canned whole tomatos and not canned pasta sauce, thumbs up for the effort to use authentic ingredients.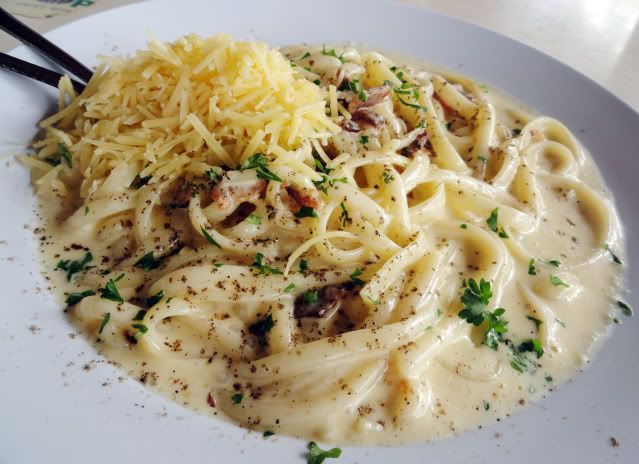 My friend ordered the Bacon Carbonara which was filled with delicious, sinful bits of pan fried bacon, which adds a lot of flavor into the carbonara sauce resulting in a tasty bowl of carbonara pasta. This is definitely worth trying for all carbonara lovers out there.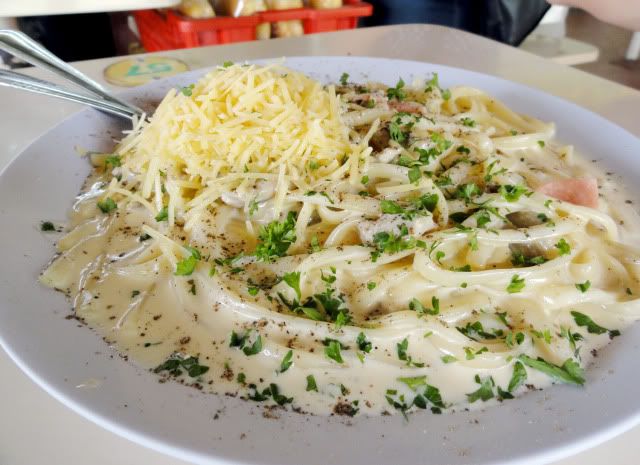 My other friend had an upsized plate of Ham Carbonara which was very similar to the Bacon Carbonara, only that ham was in place of bacon. Both plates of carbonaras had my friends filled up so think twice before upsizing!
I will definitely be back on a separate occasion to try some of the other pasta being offered at here at Grill & Pasta. Come and give these pastas a taste test of your own if you are keen!
Grill & Pasta
Sembawang Hill Food Centre
590 #01-34 Upper Thomson Road
Opening hours : Tue - Sun 12pm to 2:30pm and 5:30pm to 8:30pm
(Closed on Mon and every 3rd Sat of month)