If grilled burgers and sausages are your thing, this
is
the
place for you.
Originally known as Swiss Butchery only, they sold, and still are selling, quality cuts of meats and sausages. But as time passed, people thought they should start cooking and plating up their quality meats and sausages so that patrons can be saved of the hassle of cooking the meats themselves but yet enjoy just the same amount of gratification or even more while dining at the shop itself.
Putting constructive suggestions into actions, they now have Swiss Grill implemented alongside Swiss Butchery where you can dine in house and you might just find yourself walking away with a few packets of their sausages or raw meats after a delicious and satisfying meal.
Oh, and did I mention that I was here by chance because I got picked for the SMRT Makan Session with Brad a.k.a ladyironchef? Yes, you can now travel to Coronation Plaza easily with just a short walk from Botanic Gardens station on the circle line. It'll take you less than 20mins from Bishan station.
Now, imagine sinking your teeth into a crispy burger bun that held a piece of tender chicken meat with crispy skin in the middle of it. 'Mmmmm...'
Was the mental picture of the Grilled Chicken Burger ($14.90) beautiful? I would reckon so. It was exactly what I felt I had last Saturday. Swiss Grill had already gained its place in my heart on its first dish. Were the dishes to come going to have the same level of goodness or even more in them? Read on.
Okay, look, if you don't have any dietary requirements or religious beliefs that stops you from eating beef? You must try their Swiss Portabello Mushroom Burger ($15.90) even if beef is still not your thing yet. They're famed for this burger that boast of grilled premium chuck beef. I was a true convert of truly good beef burgers from the first bite onwards. Exaggeration? Try it for yourself.
The beef patty was grilled to a medium well doneness and had still had its juices sealed in that threatens to ooze out as you slice it with your knife to bite size portions. That was enough to elicit a 'woooo..', and the taste? Fantastic. The beef patty was moist and juicy, the portabello slices added the mushroomy flavour while a piece of pan fried bacon sealed it all up by adding the saltiness and crispiness the burger needed. What a well executed burger, what an exciting time to be able to discover a hidden gem!
On the other hand, the Grilled Cod Fish Burger ($16.90) (first photo), which was originally not included in our menu but it kindly served to us on the house, was disappointing. The cod fish is a mild tasting fish thus its taste was easily masked over by the herbed mayonnaise it was grilled with.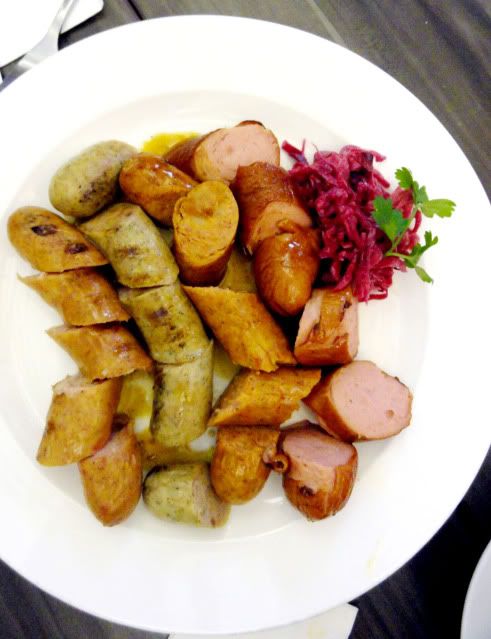 Well, after tasting their burgers, it was of course time for their sausages, another of their speciality. We had an assortment of sausages for our tasting. 4 kinds of sausages to be exact, as you can see. I wasn't sure what flavours there were but I would favour, I'm guessing, the Snail Sausage - the slightly grey sausage, second one from the left. The spices came through nice and aromatic while the sausage was nicely grilled to perfection.
In addition, we had a creamy mushroom pasta which I couldn't locate on the menu but it was only passable though. However, I felt it's still alright because if I make a trip down here, it'll certainly be to eat their burgers and sausages and not their pastas. Don't worry, the convenience with the excellent grill will make your trip down to get there worthwhile.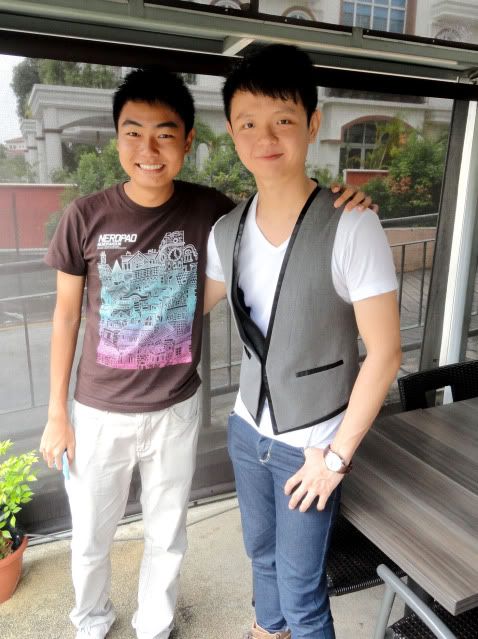 Brad & I
I can't emphasize this enough, remember, get their Swiss Portabello Mushroom Burger.
Now with the convenience of the circle line, have you used it to your advantage in your exploration of more good food? Share me the good eats near the circle line will you?
You can try signing up for the future makan sessions
here
, and rest assure, you don't have to have a blog and participants are slected with a random generator!
Thanks to Nuffnang and SMRT for hosting this makan session, and Brad for the excellent recommendation.
Swiss Grill
Coronation Shopping Plaza, #01-05
Tel: (65) 6463 8080,
Open 11.30am – 10pm (Tuesday – Sunday)