Of all unique dining experiences, one of them must be a
savouring
a scenic gastronomical meal.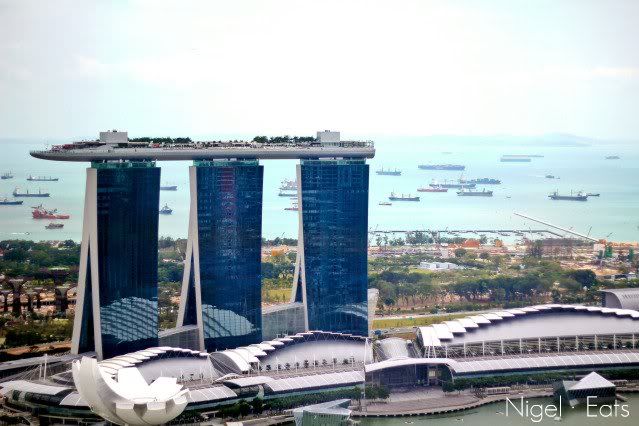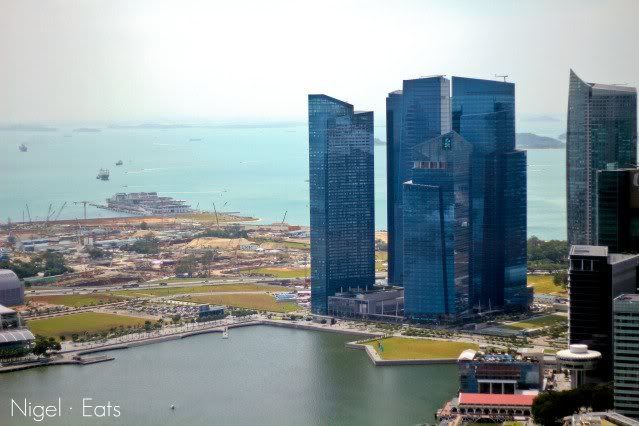 Situat
ed on the 70th floor, Equinox completes dining - good food and good company - with a panoramic view of the city area and marina bay sands. I am guessing the view must be dazzling in the night with the night lights switched on and the night skies acting as the backdrop; Imagine, how beautiful it must be.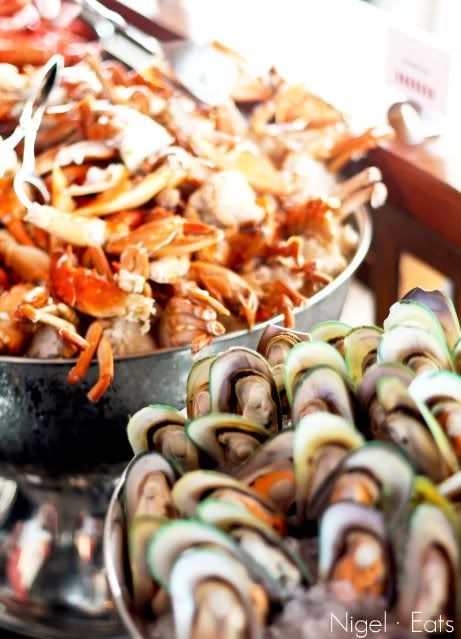 Equinox offers semi buffet during lunch and ala carte menu for dinner. It was my first time encountering/eating a semi buffet and I like the concept of it - have a quality main course coupled with unlimited appetizer and desserts.
The appetizers played their role of revving up our appetite well as we sinked our teeth into bite sized, one mouthfuls of foods one after the other. There was a fine selection of fresh seafood, sushis, salads, etc.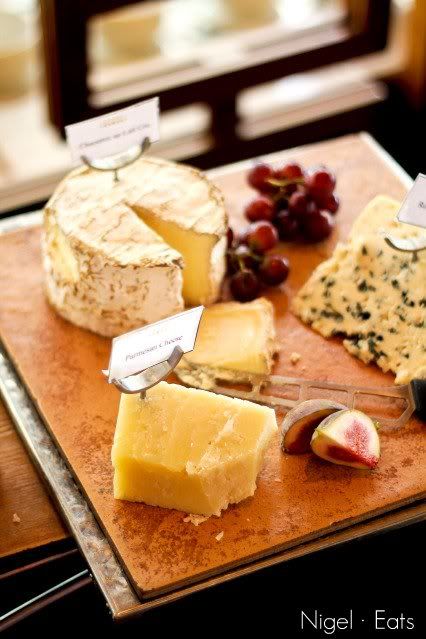 Rejoice cheese lovers, because they have various kinds of cheeses available for your taking! And it's your choice to pair the cheeses with different kinds of crackers and dried fruits.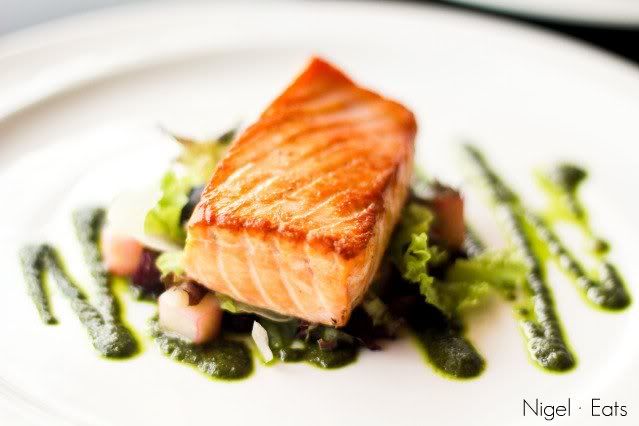 We selected our main courses at the start of the buffet and it was served 15-20mins later upon our request, after we had finished with the appetizers.
I had the Pan Fried Salmon that was presented very professionally and pleasing to the eye. The salmon was certainly fresh but unfortunately there was nothing special to it; Just a ordinary fresh, thick piece of well cooked salmon fillet with crisp edges. There is beauty in simplicity I guess.
My uncle had the Roasted Lamb Steak (first photo) which I tried and found it rather tough and, though we settled for well done as there was only a choice of well done or medium doneness for the lamb, it felt like medium well to me as there was a slight slit of pink in the middle of the lamb steak.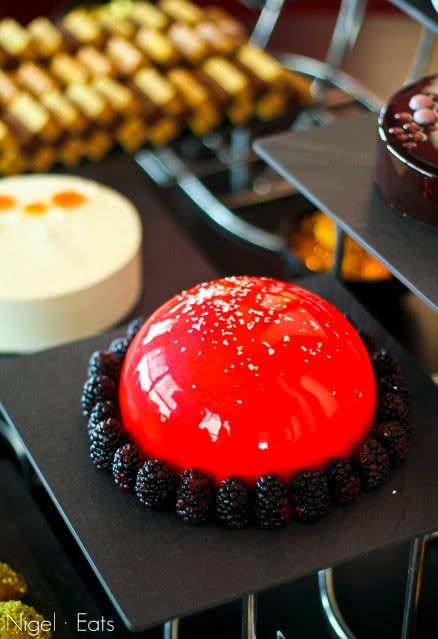 Last but never the least, how can a meal said to be completed if there were no desserts. It was hits and misses with the desserts; While I liked the White Chocolate Dome (the red dome you see), the Brownie and the Chocolate Gateau, I didn't quite take to the Apricot Cake and a not-so-chocolatey kind of tart that was available. Chocolate seemed to be the dessert chef's forte, I realized. There was ice cream as well and the creme brulee flavour one was delicious.
To end things off, I ain't a big fan of buffets because more then once has it been quantity over quality and stuffing myself silly to justify the price paid. With that said, I enjoyed my dining experience at Equinox simply because quality was evident.
2 lessons I've learnt from scouring food blogs and feasting on occasional buffets :
1.
Nothing for nothing and very little for a half penny;
If you want a quality buffet, you have got to fork out the money for it.
2. Credit card promotions makes everything else especially buffets all the more worth it, so go all out to look out for credit card promotions before feasting on a good buffet.
Oh, and remember to make a reservation and they won't hold it for more than 10 minutes so don't be late.
Equinox
2

Stamford Road,

70F

Swissotel The Stamford
Singapore
Tel :

+65 6431 5669
Operating Hours:
Lunch: 12noon – 2.30pm (Mon to Sat)
Brunch: 11.00am – 2.30pm (Sun)
High Tea: 3.30pm – 5.00pm
(Daily)
Dinner: 6.30pm – 10.30pm (Daily)