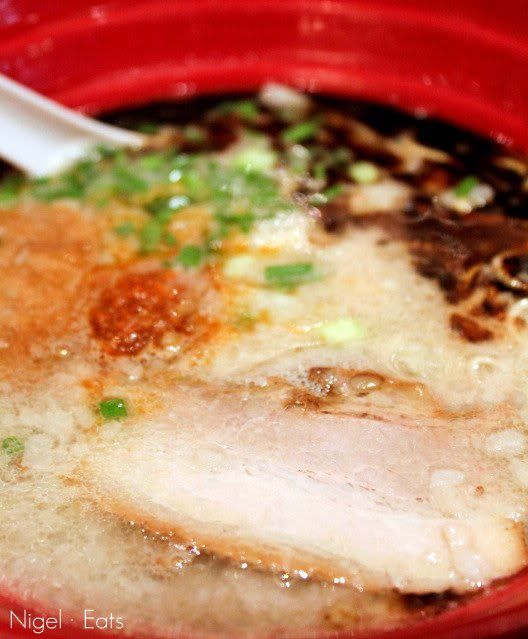 Here at Ippudo, the ramen chefs does their ramen right, especially the Akamaru soup.
Shigemi Kawahara, founder of Ippudo, is also known as the Ramen king
after three consecutive first place wins while competing with other ramen masters. Everyone knows how meticulous the Japanese are when they do things, choosing quality over quantity, and when it comes to food, there are no exceptions; So one would conclude that this has gotta to be a good bowl of ramen right? You're right, and you're wrong. Why? People's verdict of food at Ippudo has been controversial; Some say that it's overrated and others complain about the noodles being tough while lovers say the ramen is delicious.
I'm a lover, fortunately. It would have been -sad face- for me to spend close to $20 for a bowl of ramen and not gain any gratification from it. I ordered a bowl of Akamaru Kakuni (photo above) and it was sooo good, I couldn't stop drinking the soup.
Akamaru was Shiomaru with a dollop of specially prepared miso paste called Umami-dama and fragrant black garlic oil. Shiomaru, being its original tonkotsu base soup, was good but the miso paste and the black garlic oil gave it extra goodness and the oomph factor. The noodles were cooked just right for me and oh, the cha shu was good but the simmered tender pork cubes were even better! The layers of fats between the cubes and the meat being so tender just melts in your mouth. Mmmm... Even if this means your day's intake of saturated fats, take it. It's worth your every calorie.
My friend ordered a bowl of Shinomaru Chashu and it was good but I highly recommend you ordering a bowl of Akamaru Modern to try.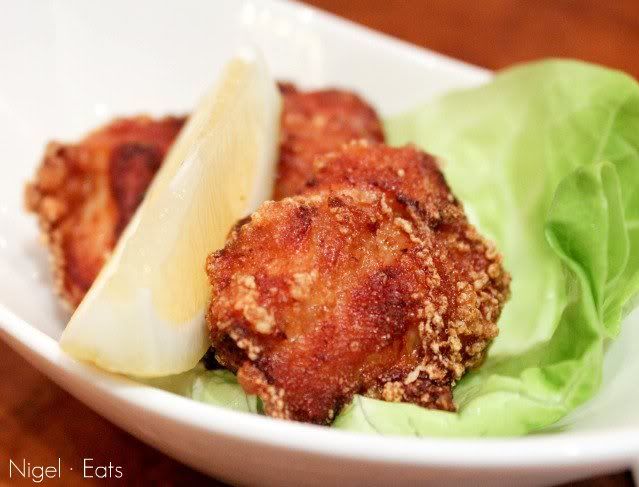 In addition, we ordered a bowl of fried chicken as an appetitizer and what came surprised me. There were only 3 bite-sized pieces of chicken and we're paying $7 for it. Though I have to say it was nicely fried to a crisp, I wouldn't pay for it.
Next time you're here at Ippudo, go for their ramen only, it's enough to fill you up. You've been warned.
Ippudo
333A Orchard Road
#04-02/03/04
Singapore 238867
Tel : 62352797
Mondays to Saturdays
11am-11pm
Last order at 10pm
Sundays
11am-10pm
(Last order at 9pm )