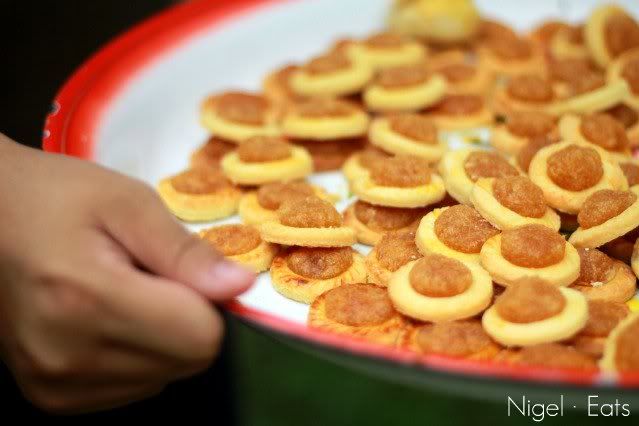 Commercial goodies might be good but nothing beats eating home-made goodies. Love and effort will compensate for any lack of taste or aesthetic issues.

In the coming week, Chinese all over the world would once again usher in the new year with great joy and splendid celebrations. As with the arrival of Chinese New Year, there would definitely be the customary practice of giving of red packets, annual house visits, feasting and certainly snacking of new year goodies!

Oh, don't we all relate to how guilty yet satisfying snacking on new year goodies is; the mindset of 'eat first, worry later' is certainly at work here during every new year season. New year goodies have evolved and new variations keep appearing every year to tempt and suit each's palate but I'm glad the traditional and classic ones are always here to stay, just to name a few that comes to mind would be : love letters,

kueh bangkit, kueh bulu and the all-time favourite pineapple tarts.
In the course of 2 days, I had the opportunity and the time to test bake and try out 3 different pineapple tart recipes. Initially, I set out on a mission to look for a buttery, melt-in-your-mouth kind of pineapple tart pastry that I have eaten and have been wanting to recreate on my own.

A plan quickly formulated in my mind and I was onto my first recipe, one that I have seen previously and had mentally bookmarked - little teochew's buttery melt-your-mouth pineapple tart recipe.
The freshly baked tarts looked decent and I got excited. However, after tasting a few, the verdict was out : I failed. I failed to replicate the same buttery texture and the melt-in-your-mouth effect. I haven't given this recipe a death sentence yet so I might just come back to try it the following year!
Recipe for Pastry
(Adapted from
Little Teochew
who adapted mainly from
Delicious Asian Food
)
- 400g plain flour*
- 50g corn flour
- 1/4 (heaped) tsp salt
- 280g cold, unsalted butter (do not allow it to soften)
- 3 egg yolks, beaten
- 3 tbsp cold water (or iced water)
- 6 tbsp icing sugar**
- 1/2 tsp cognac or pure vanilla extract
- For glaze, mix 1 egg yolk + 1 tbsp water
* Note that the original recipe called for 450g plain flour. I changed it to 400g plain flour + 50g corn flour to make the dough more "melty".

** The recipe called for 4 tsp castor sugar. I used 6 tbsp icing sugar in its stead. I read somewhere that icing sugar helps soft pastry dough keep their shape during baking.



1. Sift the flours, icing sugar and salt. Mix well to combine.

2. Using the pointed ends of a fork, rub the butter into the flour until it looks like fine bread crumbs. If necessary, use fingertips to continue rubbing lightly the bigger pieces into finer pieces. Basically, just scrape / flake the butter with your forks. You essentially want to coat the butter crumbs in flour. Using forks prevents the cold butter from melting since there is no contact with heat. If you want to rub the butter into the flour using your hands, make sure you use only your

fingertips

.

3. Beat together egg yolks, cold water and cognac (or vanilla extract). Add it into the butter-flour mixture. Using your finger tips,

gently

coax all the crumbs into one large dough ball. Do

not

knead. As long as all the crumbs come together, stop. Chill in the fridge for about 10mins, covered.

4. Roll out to desired thickness (mine was about 8mm thick). Cut out dough using cutter. Arrange neatly onto baking tray, with at least 1.5cm apart. Since this is a very buttery, oily pastry, it would be good to use a small portion at a time. Keep the rest covered in the fridge, otherwise it will ooze oil.

5. Once you have arranged the tart shells on your tray, glaze them (the entire surface, not just the rims).

6. Place the pre-rolled pineapple jam balls onto the centre of each tart shell.

7. Bake at 160°C for 20 minutes, turning the tray halfway through baking. According to the original recipe,

when placing jam onto the pastry, take caution not to smear jam onto the sides as this will easily "burn" and render the sides of the pastry (the flowery design) darker.

I did not have a problem with this because I used a very sticky, dry jam.
More notes from The Little Teochew:


~ This recipe yields about 96 tarts.

~ I tried baking 2 batches - one using cognac, the other using pure vanilla extract. They were both equally aromatic. So, no real need to use cognac. But

do

use a good quality vanilla extract.

~ I decided to be hardworking and glazed all the tarts. The egg wash helped make the pastry "studier" during baking. This pastry has a tendency to puff and expand a little. Also, glazing makes the colour a little more golden, a little more festive. ;)

~ Always pre-roll your pineapple jam before making the pastry. I like to pre-roll the day before.

~ Chill your pastry. It's much easier to work with it. I chill my pastry dough,

always

. The only time it didn't do a thing for me was the
Kue Nastar
episode. Maybe it was the addition of margarine.

~ If you are not averse to lard, you can try adding some lard oil. Lard always gives that additional oomph to pastries. Someone left a comment to say that the best Pineapple Tarts he/she has ever eaten was made using lard. I have heard this many times and I believe this 100%
But for now, let's move on to the other recipes. I was unsatisfied and I knew my next best bet to find another recipe that would fufill my expectations would be Google. I google-ed and came up with 2 other recipes that contain gorgeous pictures of their tarts and had good reviews.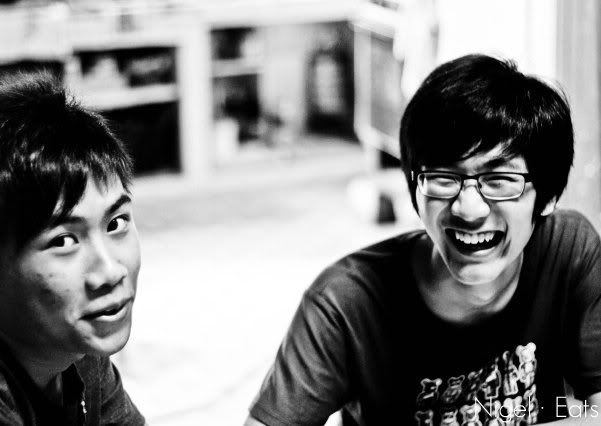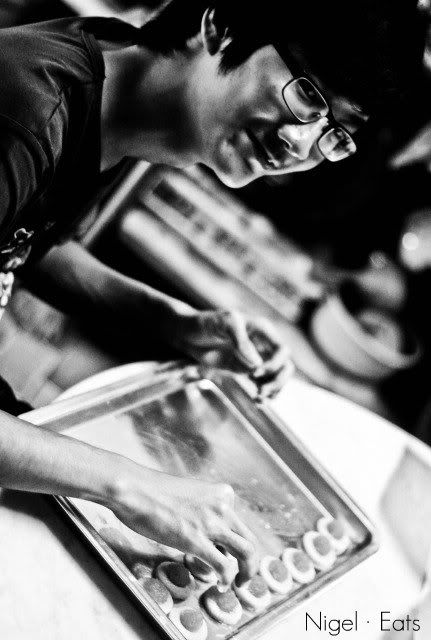 The recipes came from Food-4Tots and IndoChineKitchen.
The following day, I had 2 extra pair of hands helping me at the work station - Clarence and Stephen, my classmates. Stephen is officially awesome for helping me with the prep work of rolling the pineapple filling into balls for easy assembling later. On the other hand, Clarence must be commended for his efforts of 'tasting' every batch of pineapple tarts haha.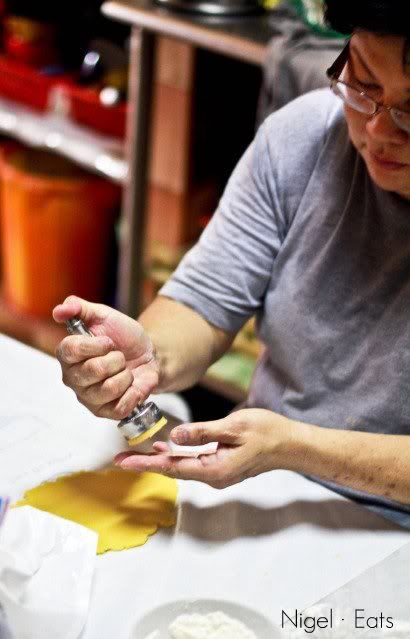 Of course I couldn't have pulled off this whole operation by myself. I had help from my aunt, who stamped out the tarts #likeaboss when the inexperienced me was failing to do so badly heh. Thanks aunt!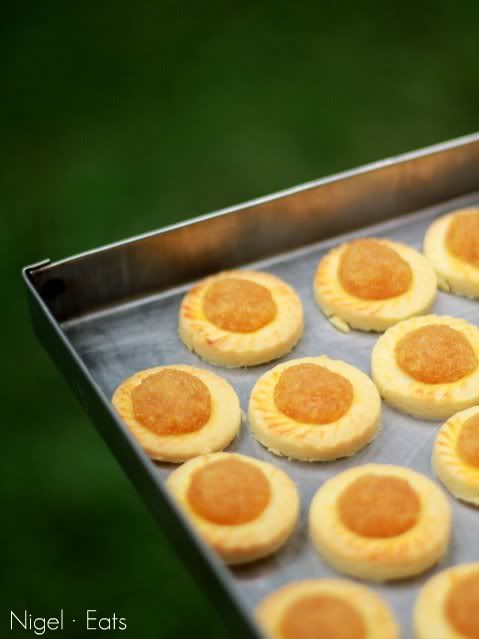 I got to work with IndoChineKitchen's recipe first thinking it was Food-4Tots's recipe as one of the dough had to be chilled for 30mins and I got it mixed up. But I learned something from this - the dough was always easier to handle after being chilled. I had an easy time stamping out the tarts from Indochinekitchen's recipe dough after having mistakely chilled it in the fridge.
The first batch was sent into the oven soon and no very long later, they came out piping hot and looking great. Like a child who have spotted a new toy in the house, I was very eager to give the tarts a taste test indeed. Once the tarts have cooled a little, I immediately popped one into my mouth and I love it. I love it! Everyone agreed unanimously that the tarts are nice and so this recipe is good.(:
Ingredients:
For pineapple jam
2 kg pineapple, roughly 4 medium sized pineapples
600 g sugar
3 cloves
5 cm cinnamon stick
For cookies
200 g butter
50 g confectioners' sugar
40 g powdered milk
280 g flour, low gluten or all purpose
20 g cornflour
2 egg yolks
For egg wash
3 egg yolks
1/4 tsp condensed milk
Directions:
For pineapple jam
Puree pineapple in an electric blender till smooth.
Combine puree with sugar, cloves and cinnamon stick in a pot. Cook over low heat for 3-4 hours, stirring continually.
When it thickens and can be piped or rolled, remove from heat.
The jam will thicken during cooling. Prepare this one day in advance. You will end up with 500-600 g pineapple jam, enough for one batch.

For cookies
Preheat oven to 150 degree Celsius
Sift flour, powdered milk and corn flour twice.
In a mixer bowl, combine butter and sugar. Cream till light and fluffy, about 4-5 minutes, over high speed.
Add egg yolk, one at a time. Beating well.
Add flour mixture into the bowl and beat over low speed using paddle attachment. Do this for 4-5 minutes, until everything is mixed well.
Work with 50 g of dough one at a time. Roll dough between plastic sheet to 0.2 cm thickness.
Pipe pineapple jam on top of the dough. Roll the dough to cover up the jam completely.
Use a pair of scissors to cut them up into 4cm log and arrange on greased pan.
Brush with egg wash mixture twice using small pastry brush.
Bake in preheated oven till golden, 15-20 minutes.
Let cool and store in airtight container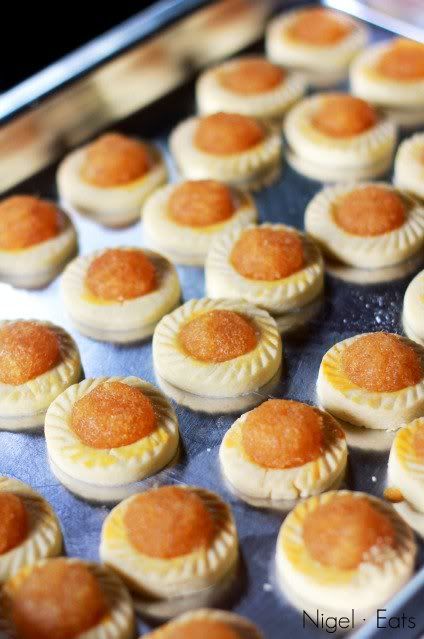 Moving on to Food-4Tot's recipe, I chilled it for 30mins but still it was a little too soft for me to handle and my aunt took over from there. It was yet another batch of tarts into the oven and came out looking great as well! Each of us tried the tarts and had no complains about its taste but came to a consense that the tarts were too soft. It is warned that this recipe might not do so well for the open type of tarts but I decided to have a go at it anyway. You can have a go at it too with the rolled type if you like and tell me what you think of it.
Makes: 75 rolls
Ingredients:
250g unsalted butter (at room temperature)
50g icing sugar
2 egg yolks
360g plain flour mixed with 2 tbsp corn flour (sifted)
¼ tsp salt
Pineapple filing (Take

6g or ½ tsp

heapful of filling and shape into a small elongated roll).
Egg wash – 1 egg yolk + 1 tbsp milk
Methods:
Preheat oven at 160°C. Line a baking tray with grease-proof paper.

Cream butter and icing sugar until light.

Beat in egg yolks, one at a time.

Add in salt and beat until fluffy.

Fold in sifted ingredients (divided into 2-3 times) and mix into a firm dough.

Leave aside for 30 minutes.

Put the dough into a pineapple roll pastry press or mould, and then press out into a strip of 5cm length.

Place pineapple filing at one end and roll up the pastry, as in a Swiss roll, enough to enclose the jam. Do not overlap the pastry. Cut off the excess pastry.

Put the rolls on the baking tray. Brush with egg wash.

Bake in preheated oven for 15 minutes and turn the baking tray 180 ° and continue to bake for 2 minutes or until golden brown.

Leave to cool before storing.
Tips:
Pineapple tarts must be cooled completely before storing so that the rolls/ tarts will not turn moldy easily.

Roll the pineapple filing one day in advance.

Adjust the baking time and temperature according to your own oven. Mine is just a guide for reference.

Use a premium brand for butter to get the buttery flavour for the pastry. I used Luprak brand.

Best to be consumed within a week for its freshness.

This recipe is only suitable to make the rolled type. It may not work well for the open-type and the closed type. So, please do your own experiment.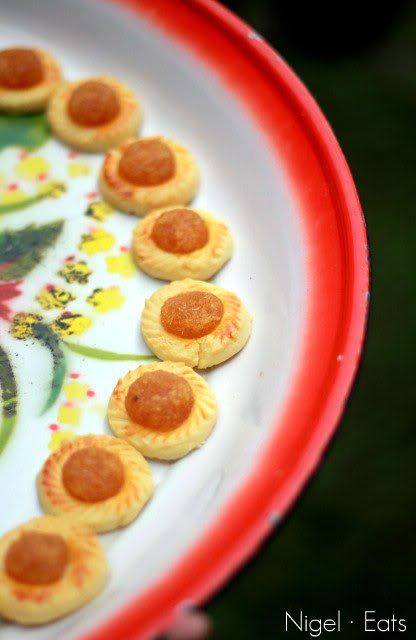 IndoChineKitchen's recipe worked best for me and was sliently declared as the winner amongst these 3 pineapple tarts in my heart. I strongly suggest anyone keen on trying out IndoChineKitchen's recipe to visit her blog for the very detailed recipe as she makes one of the most gorgeous looking rolled type of pineapple tarts that I've seen and it's not very hard to do so!
The texture of the tarts were to my liking but the butter taste in the tarts were still too subtle for me. Anyone has any idea how to let the flavour of the butter be stronger and for the tarts to not be too sticky on the teeth?