Salmon Mentai Yaki Wazen, definitely for a salmon lover.
Mention Japanese cuisine and these three things comes to mind immediately: salmon, sushi and sashimi. If you haven't yet noticed, let me tell you a little secret about me, '
I love salmon.
Oh no, correction, I adore salmon.
During one of the past weekend, I was at Ichiban Sushi at AMK Hub for dinner again and I tried Salmon Mentai Yaki Wazen. Can't believe I took so long to discover and try it. I wasn't expecting much but after eating it, I'm sold. It had all I needed for a fufilling meal- salmon sashimi, grilled salmon, chawanmushi and rice - and it sufficed.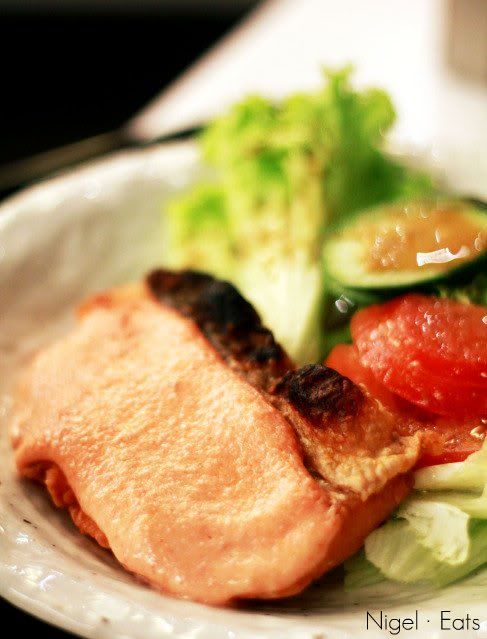 Four generous thick slices of salmon sashimi, a fairly thick salmon steak and a bowl of chawanmushi, but there was something different here and it appealed to me. Apart from the usual salmon sashimi that most are familiar with, the salmon steak is slathered generously with mayonnaise mixed with marinated pollock roe, which the japanese calls mentaiko mayonnaise, and grilled. Hence, the word 'Mentai' in the dish's name.
The mentaiko mayonnaise is addictive and went very well with the salmon and the crisped up skin of the salmon gave it bonus points. Very
shiok
indeed. However, it is a little too salty to be eaten alone but pairing it with rice makes everything just nice.
This was my first time tasting mentaiko mayonnaise and I liked it alot, I wonder what other dishes do Japanese pair with mentaiko mayonnaise? If you know, please do comment on the bottom to let me know.
Ichiban Boshi
53 Ang Mo Kio Avenue 3
#02-01 AMK Hub
Tel: (65) 6555-1617
Daily: 10.00am - 10.00pm
(Last Order: 9.30pm)