Finally, a guest post for thy blog.(:
Ever thought of adopting a healthier diet amidst all the calorie dense local fares like char kway teow, nasi lemak, goreng pisang? This guest post of Li Ting will certainly be of help to start you off your journey to a better and healthier diet. But yes, of course, that doesn't mean you can't indulge occasionally! Opps.
Li Ting started off this Facebook page of 'Your Little Vegen Chef' with the intention of sharing with others her own adapted healthy recipes. Healthy, in this case, doesn't merely refer to simply eating salad or 'grass' for every meal as it may seem to many but it means that many of the refined items in our daily life such as refined white rice, sugar, chocolate and many others are substituted with healthy and natural alternatives that taste just as good!
Here's Li Ting's story... "

Since my recovery from cancer, I began to appreciate the importance of eating well to feel well and have energy to do the things I love. Many diseases today are attributed by a stressful lifestyle and a diet with little nutrients. A plant-based diet contains all the nutrients, phyto-chemicals, anti-oxidants, minerals etc that our body really needs.
Hearing from my doctor that "one year old wound looks like two year old wound" inspires me to continue this diet and experiment many recipes. A plant based diet can be very tasty and interesting. So not only can we eat what our body needs, we can also love the healthy food we eat. So...eat well, love well, live well."
Li Ting was diagnosed with cancer a few years back and ever since, she has been relying on the Lord to live strong and purposefully. I admire her for her spirit and her faith. God has provided much for her and will continue to. And I believe it's her way being a blessing to the people around her by introducing them to a healthy diet because it will go a long way to have healthy minds and bodies starting from our diet!
Her recipes are interesting and unique, many of which I wouldn't have thought of and I just want to share 2 of her recipes that I'm very keen on trying out with you all today.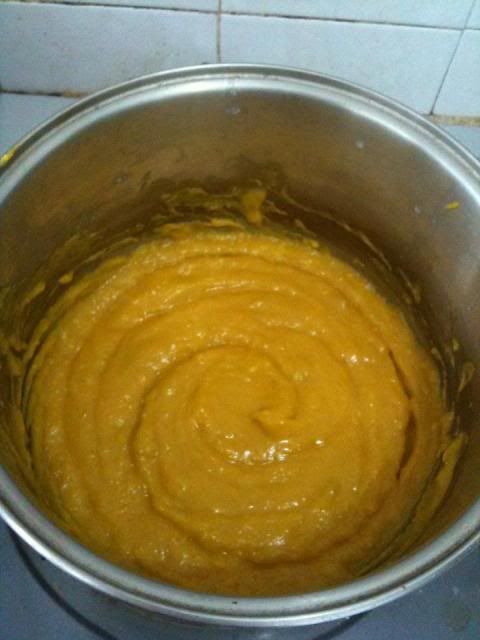 1. Steam 3 C pumpkin and set aside.
2. I make my own coconut milk by using abt 1C of coconut meat and blend it with little water and squeeze milk out from a coffee sieve. U could use 100-150ml of coconut milk too but I didn't want to consume preservatives :)
3. Boil coconut milk with 4 pandan leaves over low fire and add steamed pumpkin. Mash it and store for abt 10-15mims until you get the consistency u want.
4. Add about 2 T brown sugar. I added 1/4C of unsweetened soy milk and it taste even better!
5. When it is cooled, remove leaves and add 2T of honey. Store best in glass bottles for a week. Could Store longer in freezer.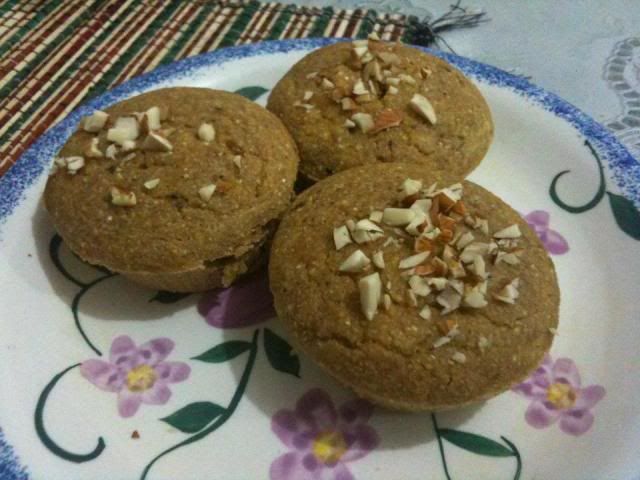 A) 1 C yellow cornmeal flour (not corn starch but grounded cornmeal so it's wholegrain), 1 C whole wheat pastry flour/atta flour, 2 tsp baking powder, 1/4 tsp sea salt
B) mix 1 1/2C soy milk, 3 T Carob powder, 1/2 T apple cidar vinegar, 1/3 C maple syrup, 3 small blended riped bananas, 1/4 C olive/coconut oil or less if u wish, 1 T grounded flaxseed powder (1 T flaxseed powder with 3 T water is one egg replacer)
Preheat oven. Add A and B and pour into muffin trays and bake for 35mins. May add raisins, walnuts and sprinkle chopped almond nuts on top for greater taste. If u r sugar sensitive, cut the maple syrup and put more raisins.
There are still many recipes over at her Facebook page so do hop over to view her recipes (which are constatly being updated) and try out some of them! You might just find yourself loving the healthier side of life.(:
Stay healthy and jiayou Li Ting! God's with you.
Have a blessed Tuesday everyone.(: