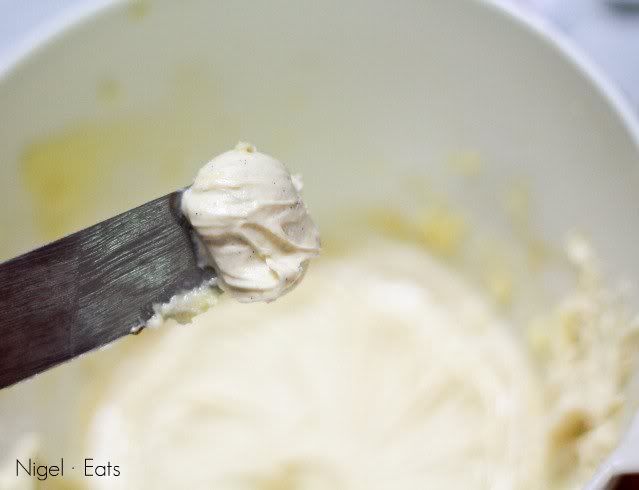 Today I shall blog a little something different from the usual food reviews, baking and cooking recipes; Introducing the Vanilla Bean Buttercream Frosting.
Buttercream has always come across to me as a frosting that had similar taste and texture to whipped cream. Oh boy, never did I knew I was deprivig myself of something so good and the magic of frosting... Till now.
This vanilla butter cream smelled heavenly - like Hagen Dazs - and tasted great. Buttercream is basically creamed butter and icing sugar and usually they would be used to frost cupcakes and cakes. I baked a couple of vanilla cupcakes the other day and decided to try my hands on frosting them for the first time. It was a hit with everyone.
My family, friends and I loved this and I hope you do too! This will complete your vanilla experience when you frost this with vanilla cupcakes.(:
Vanilla Bean Buttercream Frosting




Preparation time: 10 minutes



Ingredients :
1 1/2 cup

confectioners' sugar

(add more until it reaches your preferred consistency)

1/2 cup

unsalted butter, room temperature

2 teaspoons

vanilla bean paste

(add more to taste)

1 tablespoon

milk
Mix together sugar and butter until they are blended and creamy.
Add vanilla bean paste and milk and continue to beat for another minute.
If desired, add more vanilla bean paste to taste, or more confectioners' sugar to make it stiffer.