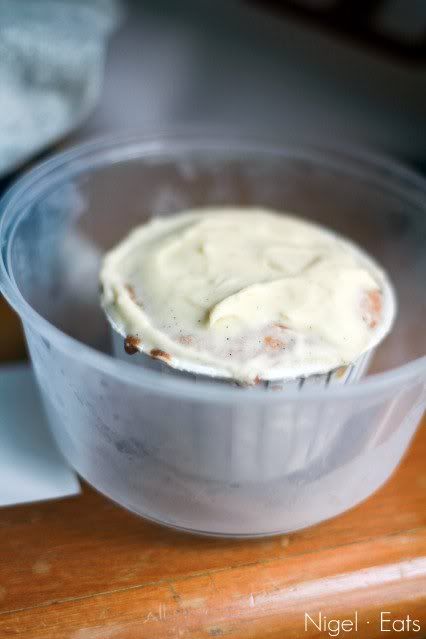 Cupcakes are all the rage nowadays and I wasn't planning to bake them. But.
Yes but, I came across a promising recipe with a very tempting header and I was defenseless. Actually I first read little teochew's magnolia bakery cupcakes post and since it was so well recommended, I thought I'll try my hands on baking them some time later but not so soon but then I came across this.
A cupcake tried and tasted by 50 bakers while gaining approval simultaneously and unanimously. Now tell me, who can resist a cupcake like that? The intention to bake was thus born and the rest is history.
Regarding my taste test of the cupcake, I have mixed feelings about it. Let me explain. To say simply, the cupcake itself (without the frosting) didn't rise up to my expectations. However that could possibly have been because of my inexperience in baking them or the usage of non-neutral oil or perhaps the cupcakes came out correctly but just that I misinterpreted it's taste; the cupcake itself had this little bit of alkaline after taste which I abhor.
The cupcakes, on the whole, tasted heavenly with the frosting. My mom and friends loved it. So... the verdict is yours. Once you've baked it, let me know. But for now, I'm moving on to try the magnolia's bakery vanilla cupcakes next!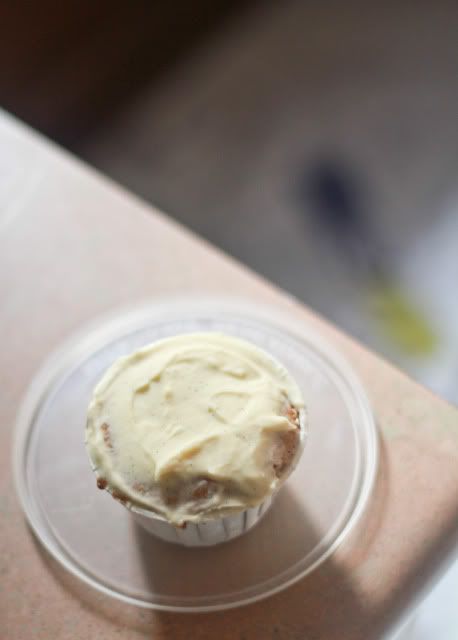 The Ultimate Vanilla Cupcake Recipe (Adapted From Cupcake Project)
Yield: 16 cupcakes


1 cup (225 grams) granulated sugar
1 vanilla bean
1 3/4 cups (175 grams) cake flour, not self-rising
1 1/2 teaspoons baking powder
1/2 teaspoon baking soda
1/2 teaspoon salt
1/4 cup (57 grams) unsalted butter, room temperature
2 large eggs, room temperature
1/3 cup (75 grams) full-fat sour cream
1/4 cup canola oil or vegetable oil (60 ml)
1 tablespoon pure (not imitation) vanilla extract
2/3 cup (160 ml) whole milk
1. Preheat oven to 350 F (175 C).
2. In a small bowl, combine sugar and seeds from the vanilla bean.
3. Using the back of a spoon, move around the bowl and apply pressure to break up any clumps of seeds and to better infuse the vanilla flavor into the sugar. Set aside.
4. In a medium-sized mixing bowl or bowl of a stand mixer, mix together cake flour, baking powder, baking soda, and salt.
5. Add the vanilla bean sugar and mix until well combined.
6. Add butter and mix on medium-low speed for three minutes. Because there is so little butter, you'll end up with a very fine crumb texture.
7. In a small mixing bowl, whisk together eggs, sour cream, oil, and vanilla extract until smooth.
8. Add the egg mixture to the flour mixture and beat on medium speed until just combined.
9. Slowly add milk and mix on low speed until just combined. The batter will be liquid. (Don't worry, you didn't do anything wrong. It's supposed to be that way.)
10. Fill cupcake liners just over 1/2 full.
11. Bake for 14 minutes and then test to see if they are done. They are done when a toothpick comes out without wet batter stuck to it. The cupcakes should appear white with specks of vanilla bean. They should not turn a golden brown. If they are not done, test again in two minutes. If they are still not done, test again in another two minutes.
12. When the cupcakes are done, remove them immediately from the tins and leave them on a cooling rack (or just on your counter if you don't own a cooling rack) to cool.
Vanilla Bean Buttercream Frosting (Adapted From Cupcake Project)
Preparation time: 10 minutes
Ingredients
1 1/2 cup

confectioners' sugar

(add more until it reaches your preferred consistency)

1/2 cup

unsalted butter, room temperature

2 teaspoons

vanilla bean paste

(add more to taste)

1 tablespoon

milk
Directions
1. Mix together sugar and butter until they are blended and creamy.


2. Add vanilla bean paste and milk and continue to beat for another minute.


3. If desired, add more vanilla bean paste to taste, or more confectioners' sugar to make it stiffer.