The Singapore Takeout, a former shipping container that now opens up into a kitchen, is a government initiative launched to share Singapore food with the world with nine chefs taking turns to serve up Singapore dishes in nine key cities: London, Paris, Moscow, New York, Hong Kong, Shanghai, Delhi, Dubai and Sydney.
My family and I won food vouchers at
Camemberu
that can be used to redeem a Heritage dish per voucher. Turns out? We could redeem 2 dishes each!
Was at the Singapore Takeout 2 nights ago when it was opened to the public for one night only, before it moves on to London. Had the opportunity to try out modern version of Singapore dishes by chef Janice Wong of 2am dessert bar.
There were 5 dishes on the menu that night - Blood Orange Snowball, Laksa Dumplings, 62 Degrees Egg, Popcorn Nostalgia and Xiao Lao Bao.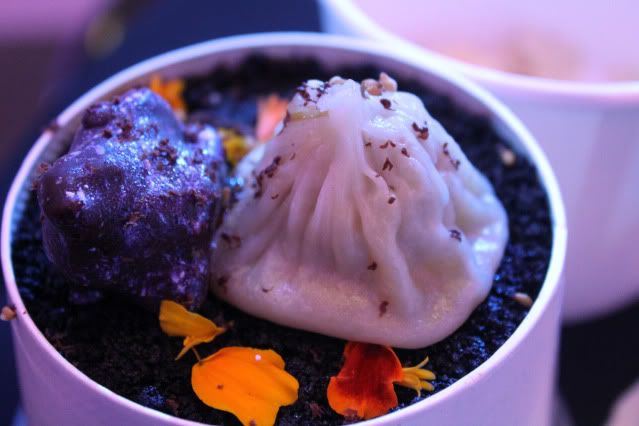 Xiao Long Bao
The Xiao Long Bao comprised of handmade Michel Cluizel 72% dark chocolate, foie gras and pork xiao lao bao served alongside foie gras ice cream coated in 72% dark chocolate. Didn't try the xiao long pao but heard it was not bad by my mom. Tried a little of the foie gras ice cream, it was my first time tasting foie gras and it was too salty and strong for me. It just wasn't compatible with my taste buds i guess. Whereas the 'soil' as seen in the photo, is actually the handmade chocolate and it was delicious! My family loved it.
The Laska Dumplings featured handmade tiger prawn dumplings in a rich, modern take on laska sauce featuring lemongrass, served with handmade noodles. The laska sauce was gentle on the taste bud, not hot and spicy, but with a strong hint of lemongrass. The dumplings were good, the skin wasn't too thick and the filling was substantial.
Popcorn Nostalgia
The Popcorn Nostalgia is made up of a duo of sweet and salty popcorn ice cream served with yuzu parfait and salty caramel. This dish was so-so. Tried yuzu for the first time and the yuzu parfait was not bad but a little too sweet.
The Blood Orange Snowball is a blood orange sorbet encapsulated in an ice kachang inspired shaved ice bowl served with lemon curd, fresh mandarin segments and blood peach foam. This modern ice kachang was all tangy and zesty, loved it. I think it was the dish i enjoyed the most that night.
62 Degrees Egg

The 62 Degrees Egg is a slow cooked free range egg in a rich chicken stock flavoured with goji berry and ginger. I guess after all the trying of the four other dishes my taste buds weren't working right anymore. The sauce at the bottom of the egg was too salty and tasted a little weird to me but the egg tasted okay.

I had a great time trying out the dishes since it was my first time trying all of them and many of the ingredients used. All the best to the nine chefs showcasing our Singapore dishes elsewhere around the world, make us proud!