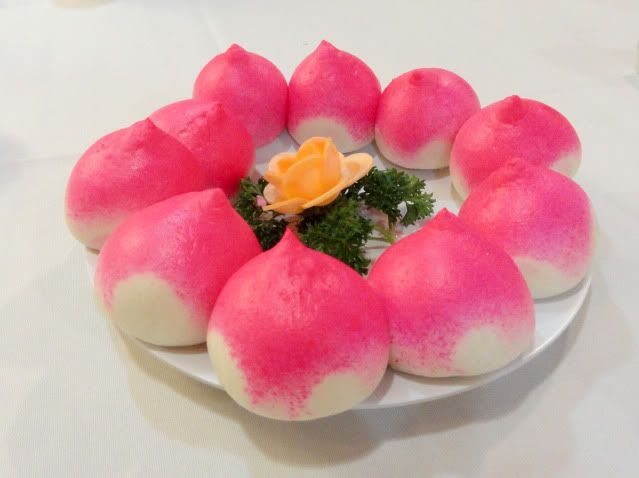 The word 'vegetarian' might not appeal to many, especially the carnivores amongst us or omnivores whose diets consist more of meat. Personally, and honestly, I prefer to acquire my daily intake of lean protein mainly from poultry, not from legumes, and mock meat and all had always been associated with flour and more flour, to me.
I'm not an avid vegetarian and in fact, this was my first time I had a vegetarian dinner because my dad's friend was having a birthday celebration. This dinner was an eye opener to me, I felt. It widened up my narrow mindset and corrected my misconceptions regarding vegetarianism. How? You may ask, read on to find out.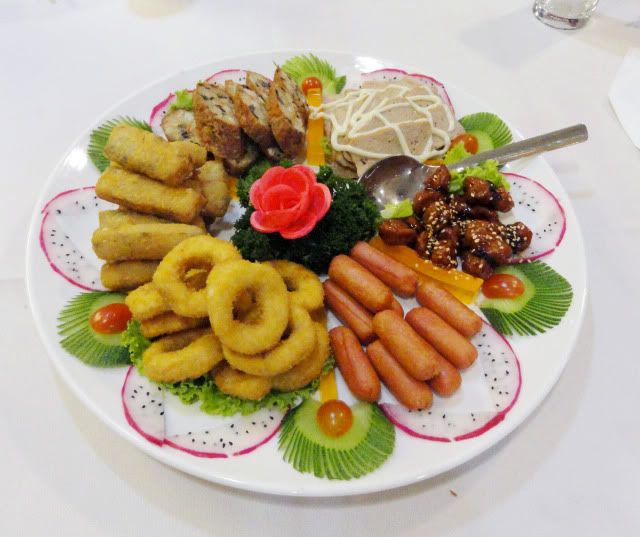 Graces Court Vegetarian Restaurant is, I heard, famous among vegetarians here and situating itself at Hotel Royal @ Queens makes dining here seem even more refined.
The appetizer was a platter of visually authentic dishes, such as the sausages, chicken and the five spice meat roll. You'll be surprised, some of them tastes amazingly identical to the real deal as well!
The sausages, though not having that intense meatiness of the real sausages, did well and tasted very close to the actual ones. This goes for the five spice meat roll as well.
Among the six different appetizer, I liked the five spice meat roll the best. Not only because it tasted like the actual thing itself but it had a balanced taste although I couldn't make out what was in them.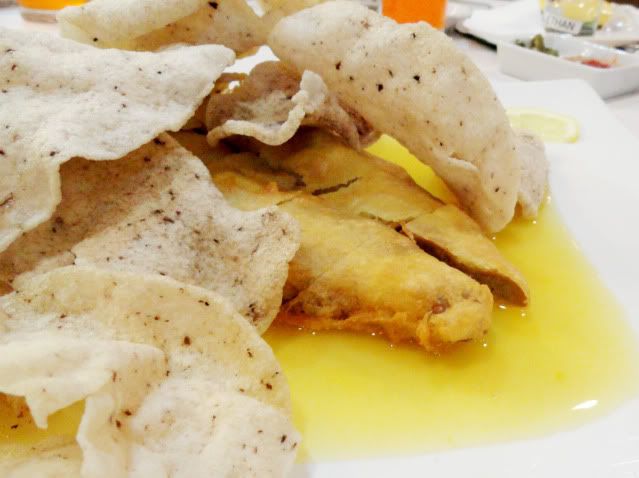 The Mock Lemon Chicken was served hidden below a mountain of keropok.
The lemon sauce was too sweet and mock chicken was on the bland side. Loved the keropoks that had speckles of spices in them, but not the mock chicken. Speaking of which, I wondered what the keropoks are made of? (it's a vegetarian dinner - no meat, no fish)
We had a pumpkin mock shark fin soup as well. It was interesting to see a bowl of orangey yellow bowl of shark fin soup and it was okay, with tofu skin substituting shark fins and a generous amount of straw mushrooms, a little on the strachy side though.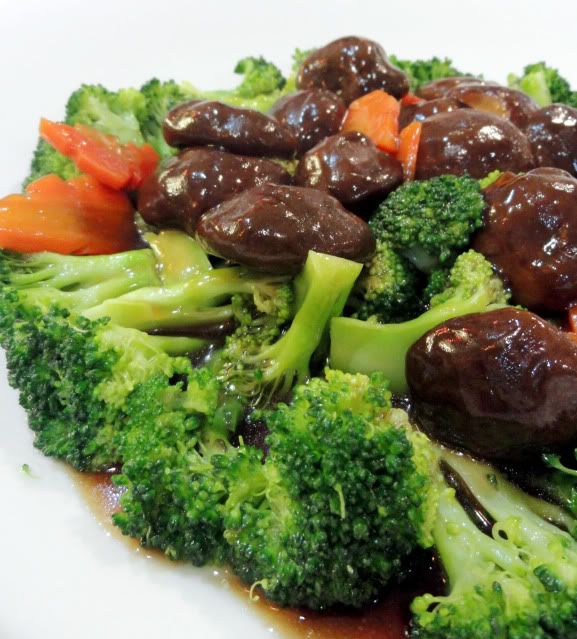 This dish is as real and as good as it looks. I felt that this dish of mushrooms and broccoli was probably the best dish for the night. The broccolis were cooked just right, resulting in tender stalks and delightful mouthfuls.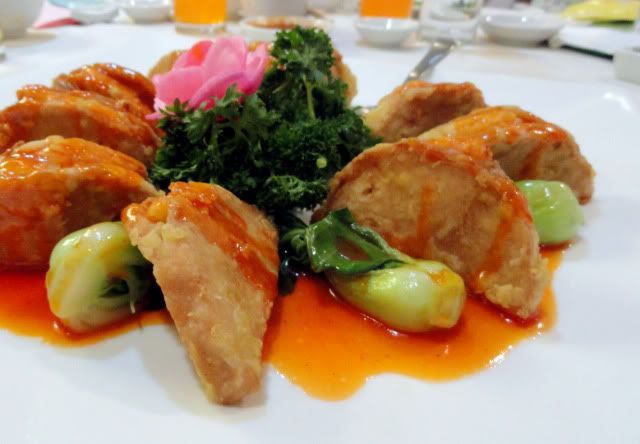 This was mock ham/luncheon meat with a surprise cube of pineapple placed in the middle. This surprisingly has the meaty taste in it and was delectable.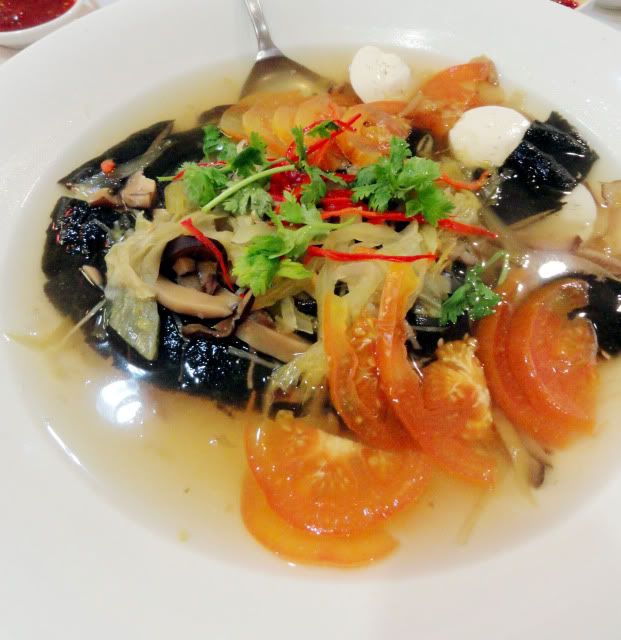 This was... did you guess it? Teochew Style Steamed Pomfret, a black one I was presume.
I wouldn't have known if I hadn't read the menu initially. I was anticipating what it would look like. It didn't have the looks, I agree, but it had taste. This tasted 70% similar to the real deal I dare to say.
The greenish black surface is actually layers of seaweed containing a sponge-like ingredient, I don't know what it is made of, but it certainly amazed me.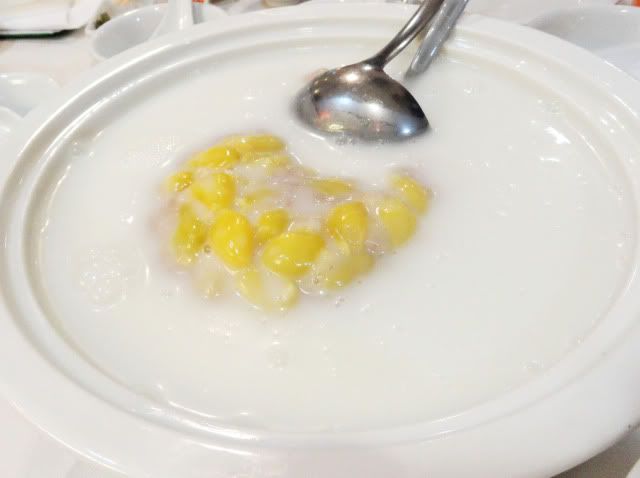 Last dish of the night, a dessert of course. Any fans of this heavy teochew dessert would be able to tell you what it is with this picture alone.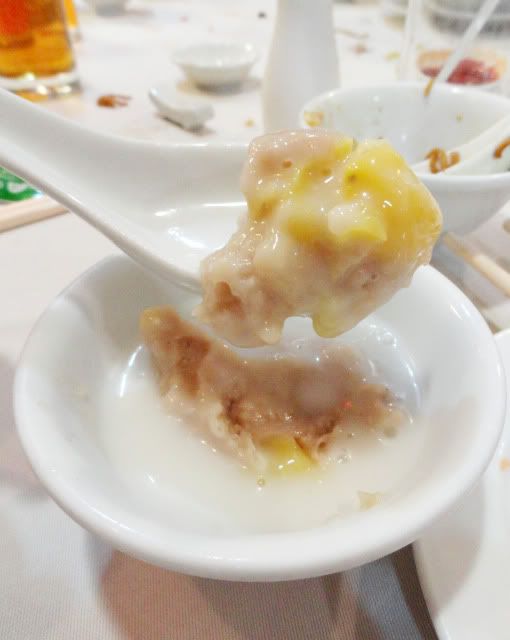 Yes, it was Orh Nee, and fans of it would surely be able to tell by the looks of gingko nuts studded onto the yam paste. I know of people who hate this but I absolutely love this. Haha, hi-fives to other fans of orh nee.
The Orh Nee was not as smooth as I picture it would be and they used artificial coconut milk which was diluted and thus gave this dish hefty discount. Worth a try, but certainly not the best.
This vegetarian dinner changed my mindset towards vegetarian food - that a lot of flour is being used and it was not tasty - and it was an eating adventure certainly. Though many of the dishes consisted of yellow beans or it products, I quite enjoyed the dinner and would recommend those wanting to try vegetarian food to come here and give it a go. Enjoy.
Graces Court Vegetarian Restaurant
Hotel Royal @ Queens
12 Queen Street #02-03
Singapore 188553
Tel: 62385085
Fax: 62385302