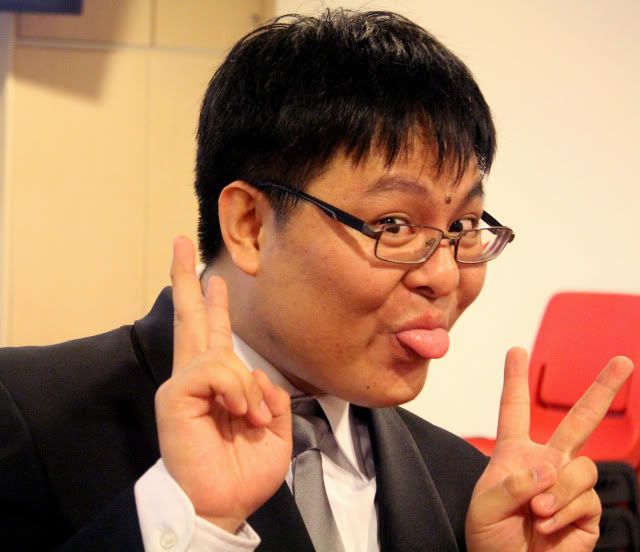 The Groom : Jonathan Tan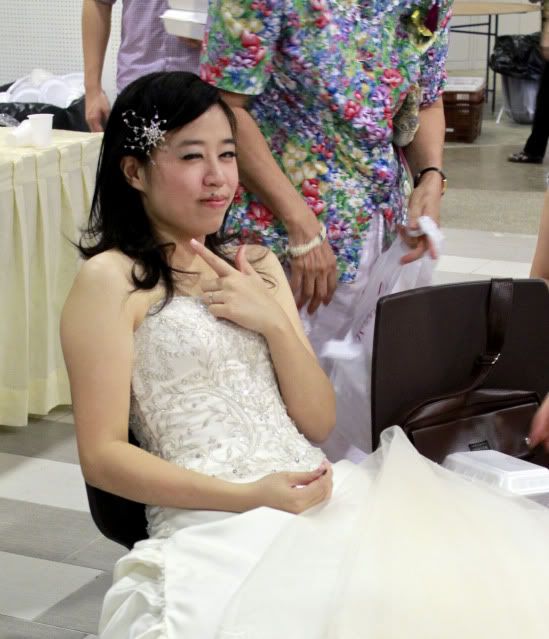 The Bride : Eunice Lin
On this faithful Saturday, 10.9.2011, Jonathan and Eunice officially became Mr and Mrs Tan! Love filled the air and the sounds of wedding bells ringing propagated through the neighbourhood of Toa Payoh as a special communion between Jonathan and Eunice was formed as they exchanged vows and became husband and wife. Congratulations once again!
I know they probably would not see this, but it's alright, I just felt I had to post this. Well, simply because it's something special that happens only once in a lifetime y'know.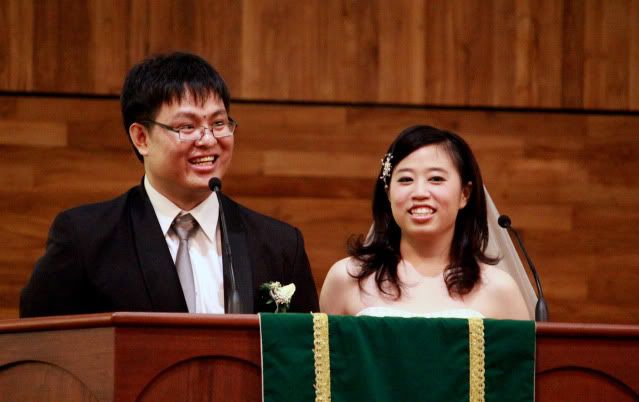 'For this reason a man will leave his father and mother and be united to his wife,
and the two will become one flesh.' So they are no longer two, but one flesh. - Mark 10:7-8
This post shall give me a chance to express my well wishes for both of them too, which I never got down to writing it on a card for them. (guilt stricken is me, but hey I gave them a gift!)
First of all, what a couple both of them are! In every good way possible, I mean! As individuals, Jonathan or Xin Liang as we usually refer him to, has a God gifted sense of humour; He is extremely funny. (I dare say Jesus bestowed more of his humorous side to him than the rest of us!) He can easily give your cheeks and stomachs a good workout any time, just talk to him. Easy going, friendly are words that befits him well too.
Eunice or Chun Hui, as I'm used to calling her, is humble, friendly and super nice. I say this not because it's a time to use only positive words but rather, they're base on my own encounters while being working together as ushers in church. Even if she's in charge and she's the boss/leader, she doesn't act like one at all, she's quick to share the blame and not push it to others. Imagine. These two becoming one. -smiles-
Secondly, I believe this marriage is pleasing in the eyes of our Lord and He shall sustain this marriage as long as they live because marriage is sacred and it wouldn't have happened if God didn't allow it. So don't fret and live happily ever after! Life might not be so perfect but let your quibbles, fights, and any forms of unhappiness that might arise, bring you two closer as you two learn what it means to live as one.
Last but not least, may you two continue to be committed and united as the days go by! May you two not have just intimacy in love, in life but also spiritually, in God. Help each other to be more God fearing everyday, carry your crosses and follow Jesus as you two support each other. Let your lives be a testimony to others, shine in your families, communities, workplaces and flavour the world with your saltiness.(:
The wedding itself was a simple, elegant and touching one. I loved it. There was love in the air and there was God's presence and that's all that matters.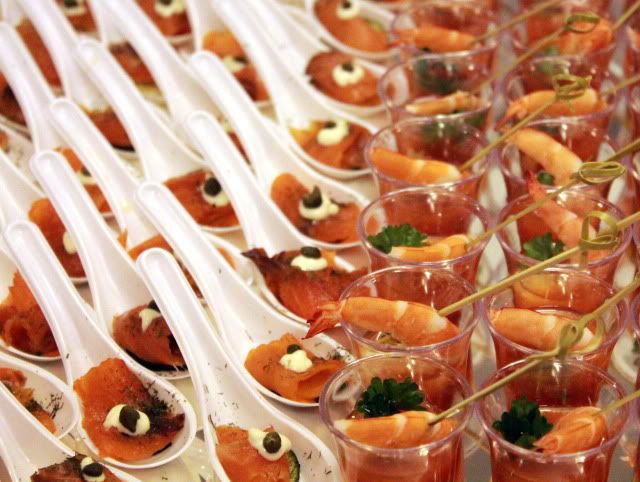 Now, what's a complete joyous occasion without food? People might not think much when 'tea reception' is mentioned, especially when it's catered food. You expect a spread but you don't expect a feast. You haven't found a good caterer yet.
It was a feast for our eyes as well as our mouths. I regretted not coming down to photograph the food earlier. It was a complete meal -
entrées, mains, desserts and drinks. Everyone was in for a treat.
The smoked salmon and prawns, you see above, are part of the
entrées
served. The smoked salmon could do with less salt as it was simply too salty, or was it suppose to whet your appetite with its saltiness? The prawns were dipped in a sourish, tomato looking sauce which tasted a little queer and the prawns were a little too fishy, though they were firm and big which tells of their freshness.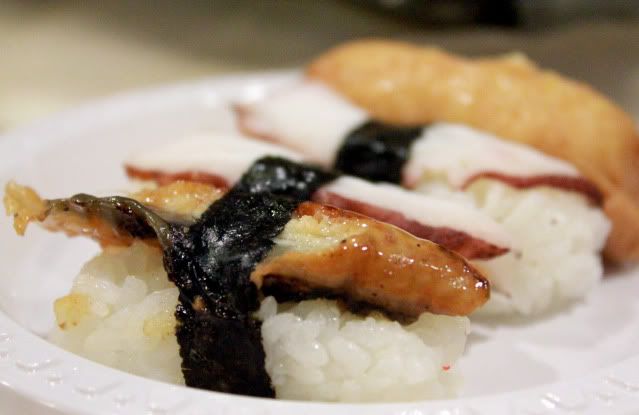 There were sushis too!
I skipped the mains, this is why:
Paradise.
How. Do. You. Resist. This. Tell me if you know how, okay?
It was dessert haven. There was a decent variety of desserts and pastries available for anyone's taking.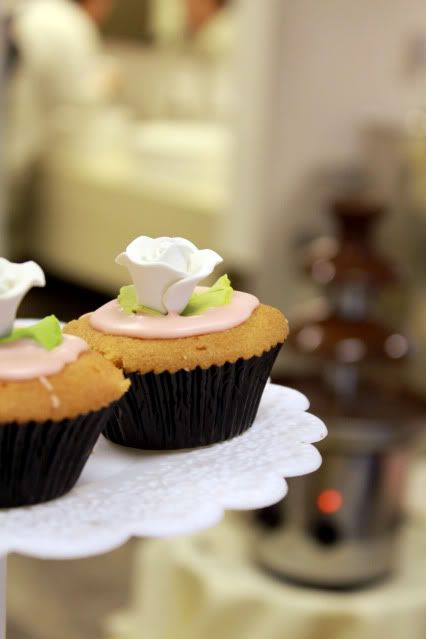 The butter cupcakes were very pretty looking with their flower decoration but the flowers were so tough. They should have put up a sign that says 'Flowers might be too hard for consumption.' or something. They were great in taste too, like the yummy strawberry frosting which I loved. No addition complains.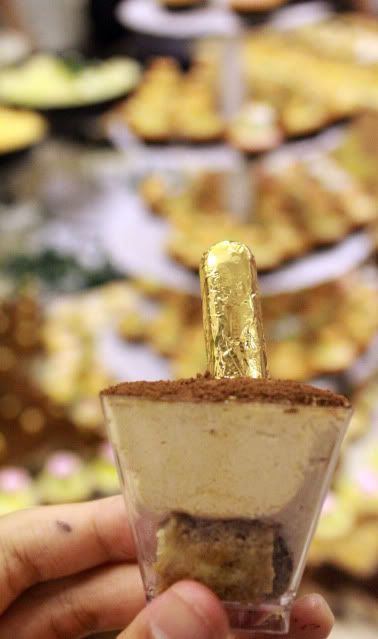 The tiramisu, which means 'pick me up' literally in Italian, was a let down. The biscuit stick on the top lost its crispiness and there was simply too much coffee cream. My taste buds only picked up the cream and nothing else.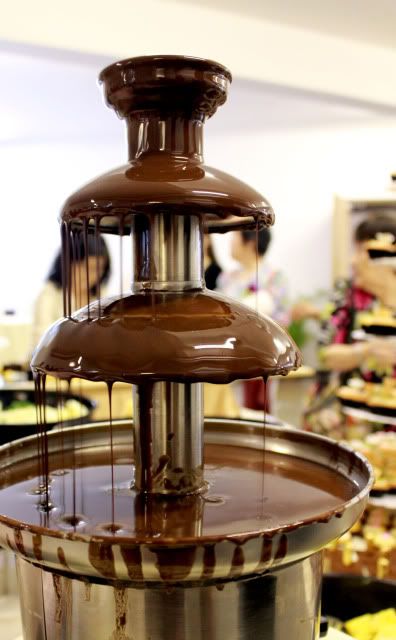 There were two chocolate fondues as well. Decent chcolate was used with a wide selection of fresh fruits and marshmallow available for dipping. Thumbs up for that. Chocoholics, you can go 'high' on chocolate now. Oh and if you love to know the caterer? It's Smiling Orchid or
http://www.smilingorchid.com/index.php
.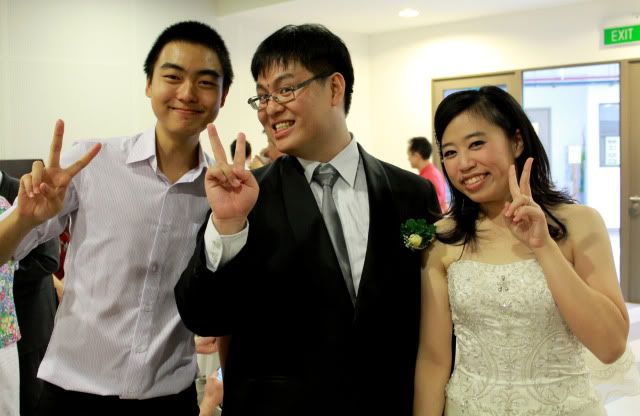 'Smile!'
The wedding was magical, the food was fantastic but these matter not. It's the couple who gave the whole wedding its meaning. I shall end off simply by giving my utmost sincere blessing to you two!
To have and to hold, from this day forward, for better, for worse, for richer, for poorer, in sickness or in health, to love and to cherish 'till death do us part. -
May you two always hold steadfast to this vow.
Wishing you a very blessed marriage,